Denglisch, das neue Globalspeak, ist weiter auf dem Vormarsch. Deshalb geben wir hier eine Übersetzungshilfe, getreu dem Motto: falsch, aber lustig.
---
---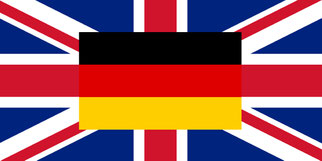 There you look stupid out of the laundry, what?
Da guckst du dumm aus der Wäsche, was? = You didn't expect that, right?
I have the muzzle full
Ich habe die Schnauze voll = I'm getting annoyed
Party evening
Feierabend = after-work hours
There is dead trousers
Da ist tote Hose = The party there is boring
Make yourself out of the dust
Mach dich aus dem Staub = Go away
---
Everything has an end, only the sausage has two
Alles hat ein Ende, nur die Wurst hat zwei = Everything comes to one end
There I eat smooth a broom
Da fresse ich glatt einen Besen = I can't believe it
Fear Bunny
Angsthase = scaredy cat
To make himself on the socks
Sich auf die Socken machen = To prepare for a trip
How horny is that then?
Wie geil ist das denn? = That's amazing
---
Making an elephant from a mosquito
Aus einer Mücke einen Elefanten machen = To make a mountain out of a molehill
To be washed with all waters (still or with gas?)
Mit allen Wassern gewaschen sein = To be up to every trick
That's not the yellow from the egg
Das ist nicht das Gelbe vom Ei = It's not exactly brilliant.
Fun Bird
Spaßvogel = joker
Watching the radish from down under
Sich die Radieschen von unten anschauen = To be pushing up the daisies
---
My english is under all pig
Mein Englisch ist unter aller Sau = My English is beyond good and evil
That's bounced like jumped
Das ist gehupft wie gesprungen = That's six of one, half a dozen of the other
Mirror egg
Spiegelei = fried egg
Falling umbrella hunter
Fallschirmjäger = paratrooper
To bring his wool animals into dry wash
Seine Schäfchen ins Trockene bringen = To feather one's nest
---
You have no idea of tooting and blowing
Du hast von Tuten und Blasen keine Ahnung = You have not the faintest idea
Meanness is sexy
Geiz ist geil = Tight is right
Clever shitter
Klugscheißer = smartass
He has a bird
Er hat einen Vogel = He has bats in the belfry
Like an oiled lightning
Wie ein geölter Blitz = Like a bat out of hell
---